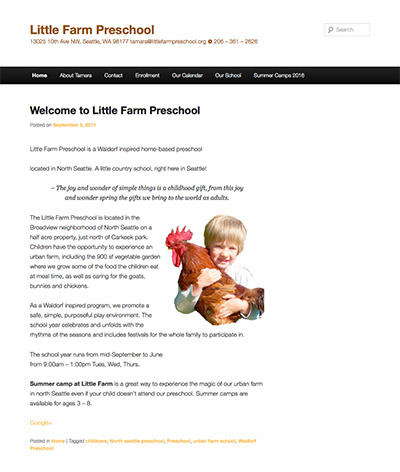 BEFORE: When Little Farm Preschool approached me, they already had a WordPress website, which they were dissatisfied with. Their case demonstrates the difference between a "do-it-yourself" approach and the results that can be had with an experienced designer who knows WordPress. The myth of WordPress is the same myth that surrounds most computer applications — "it's easy." Sure, one can produce basic functionality — the site will show up, the links will work, and the text will be there — but what impression is being made with prospective customers? The original home page had the essential text and basic navigation, but it lacked the personality and warmth that a preschool needs.
AFTER: The redesign created a "look-and-feel" that was fully compatible with the personality of the school. Bright colors, lots of images of the children, a new logo, a playful font for subheads, and large easy-to-read text. The home page also became organized around a hierarchy of information. The director of the school wanted to convey specific information to visitors in a particular order. Now everything the curious parent would want to know appears on the home page. It's a much more inviting user experience.
Visit the Little Farm Preschool website.